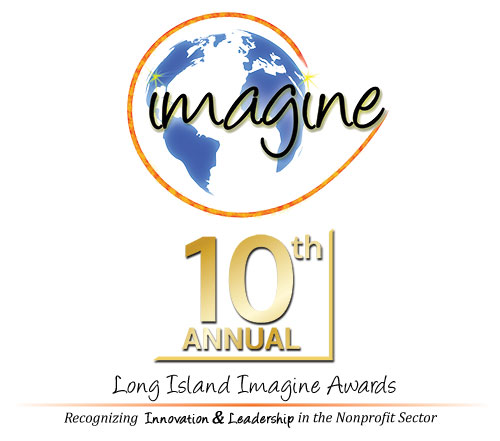 The nonprofit finalists have been selected and winners of the 10th Annual Long Island Imagine Awards will be announced LIVE at a hybrid event on Tuesday, April 26, 2022 from 6-10pm at the Crest Hollow Country Club, Woodbury, NY. This gala event was created to offer formal acknowledgement to some of Long Island's most effective and innovative nonprofit organizations. Over 150 nonprofit applications were submitted to win a $5,000 grant in five categories: Innovation, Leadership Excellence, Rising Star, Social Impact and Arts and Culture. Of this pool of worthy applicants, 20 were selected as finalists and one in each category will be awarded the grant during the LIVE awards ceremony on April 26, 2022.
"We are proud and active members of the Long Island nonprofit community and supporters of the Imagine Awards from its inception when we began as a sponsor of the Rising Star category, said Peter Klein, President, The Claire Friedlander Family Foundation. We moved on to support the Arts & Culture Category in 2017 in recognition of Claire's deep appreciation for all things artistic.

The Claire Friedlander Family Foundation Arts & Culture Award
Bay Street Theater
Gold Coast Arts Center & International Film Festival
Teatro Experimental Yerbabruja Inc.
The Eglevsky Ballet
Cerini & Associates Social Impact Award
Backstretch Employee Service Team of NY
EPIC Long Island
Options for Community Living, Inc.
YES Community Counseling Center
The Certilman Balin Leadership Excellence Award
Long Island Children's Museum, Aimee Terzulli, Director of Education
Mercy Haven, Inc., John Castellano, Attorney in Charge and Director of the Mercy Advocacy Program
RISE Life Services, Charles Evdos, Executive Director of RISE Life Services
Harmony Heights, Kathryn Nastri, LCSW, Executive Director
Flushing Bank Innovation Award
East End Food Institute
ELIJA Transitional Programs & Services (TPS)
The Viscardi Center
Family Service League
Vanguard Insurance Agency Rising Star Award
Andrew McMorris Foundation
Birthday Wishes of Long Island
Camp Pa-Qua-Tuck
Friends of the Retired and Senior Volunteer Program of Suffolk (also known as Retired Senior Volunteer Program of Suffolk County or RSVP Suffolk)
Ticket and sponsorship opportunities are available at www.imagineawardsli.com. For additional information contact Hillary Needle at Hillary@Hillaryneedleevents.com, 516-993-4056.
About The Imagine Awards
The Imagine Awards was created in 2012 on Long Island by Managing Partner, Ken Cerini of Cerini & Associates, LLP. Honoring nonprofit organizations of all types and sizes and the people behind them, the Imagine Awards recognize outstanding performances in the sector. 2022 will represent the 10th Annual Long Island Imagine Awards imagineawardsli.com and the 2nd Annual event in NYC, NYCimagineawards.com.