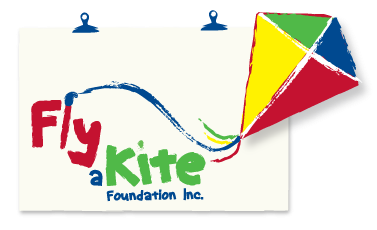 The Claire Friedlander Family Foundation supports the good work of The Fly A Kite Foundation Inc.,  which was founded in August 2014 as an IRS 501 (c)(3) non-profit charity by David and Deena Bernstein after the loss of their son Zachary. Zachary was an 11-year-old boy who was diagnosed with, and suffered from DIPG (Diffuse Intrinsic Pontine Glioma). DIPG is a type of brain tumor found in the Pons, the part of the brainstem near the lower back of the head near the top of the spinal cord. The Fly A Kite Foundation is dedicated to three main objectives:
Partners In Art – The Fly A Kite Foundation provides custom art packages for children with pediatric brain cancers. These packages are intended to provide a creative and therapeutic outlet for children suffering from diminished motor function. They have partnered with Patricia Kearney, a Neuro-Occupational Therapist (Therapy Partner) who works for Transitions of Long Island (part of the North Shore-LIJ Health System), an outpatient rehabilitation center specializing in helping people recover from neurological injury or illness. Patricia designs these art packages based on the therapeutic needs of each child.
Partners In Advocacy – The Fly A Kite Foundation seeks to provide parents of newly diagnosed patients with support and guidance as they try to define and navigate treatment plans. The members of The Fly A Kite Foundation are passionate third parties available to guide, organize, support, listen, identify treatment options, and help bridge communications between family and medical provider.
To date, they have helped many families who are recently informed about the devastating disease. The Fly A Kite Foundation support services range from weekly phone calls to families to one-on-one personal discussions helping families work through the emotional and financial roller coaster that will immediately affect their lives. They are here to help – whether it's to be a shoulder to cry on or working with their team to build out a cancer plan of attack that will help organize the family's lives for what lies ahead. For more information, visit www.flyakitefoundation.org