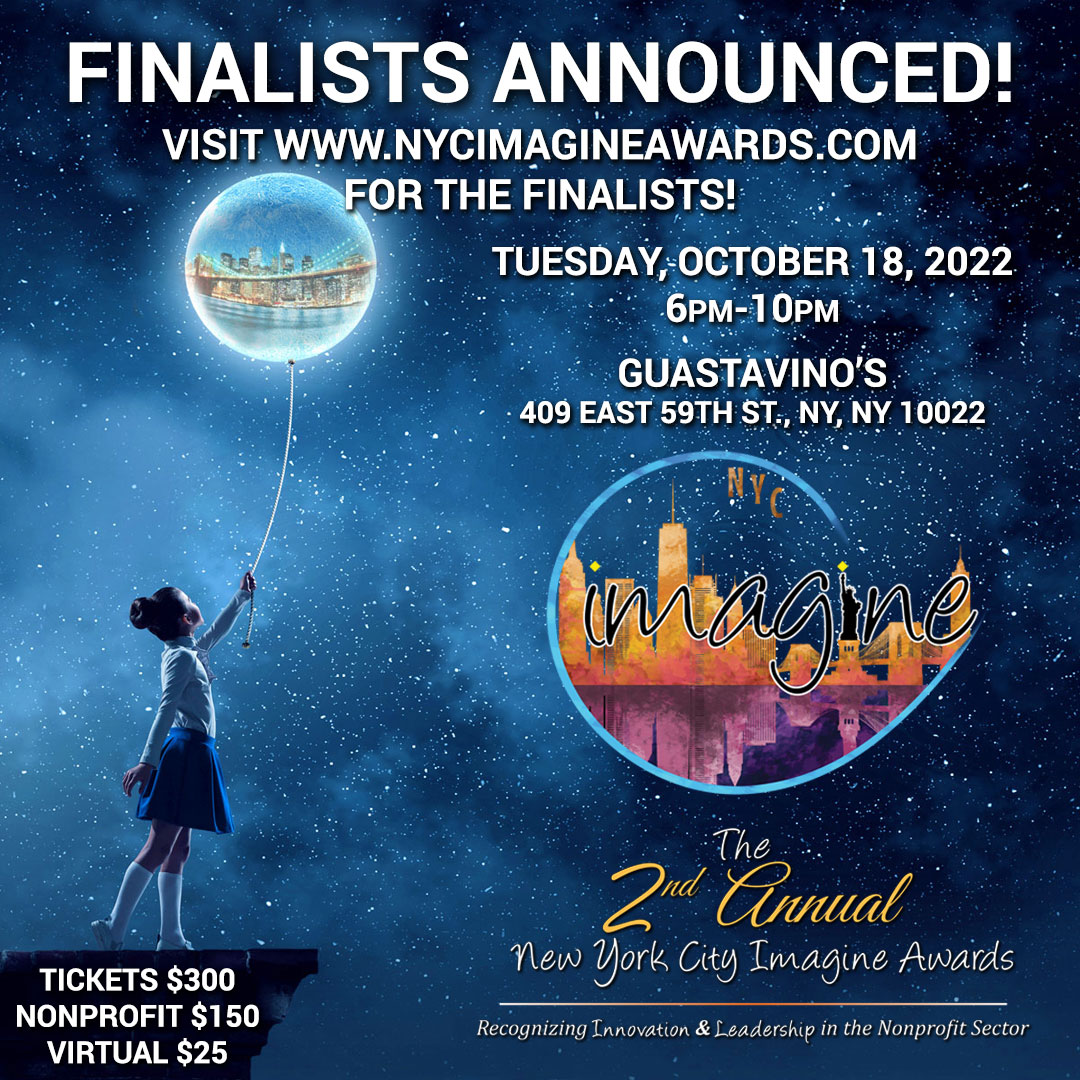 The NYC Imagine Awards was created to offer formal acknowledgment to some of NYC metro's most effective and innovative nonprofit organizations. The launch of the Inaugural NYC event in 2021 drew over 200 of the sector's top nonprofits and corporate leadership to the hybrid event. Click here to watch the 2021 Inaugural NYC Imagine Awards This year's event is expected to be even larger.

With nearly 250 applications submitted, the 20 finalists have been named! $5,000 grants will be awarded in each of the following categories: Social Impact, Innovation, Arts & Culture, Rising Star, and Leadership Excellence. 501(c)(3) organizations located in and/or serving The Bronx, Brooklyn, Manhattan, Queens, and/or Staten Island were eligible to apply. The 20 finalists receive a free promotional video that is debuted at the event and the winner in each category will be announced LIVE on Tuesday, October 18, 2022, at Guastavino's, 409 E. 59th St., NY, NY. WABC-TV reporter Sonia Rincón will serve as MC. More information about the finalists, sponsorship opportunities, and ticket information can be found here www.NYCimagineawards.com.

"The Claire Friedlander Family Foundation is proud to support the NYC Imagine Awards Arts & Culture Award," said Foundation President Peter J. Klein. "Claire Friedlander recognized the importance of celebrating the creation of art and the critical role philanthropy plays in our society. By supporting arts organizations, we sustain their legacies for future generations," said Klein.

The 2nd Annual NYC Imagine Awards Finalists are:

Aetna Rising Star Award
Harlem Grown
Legal Information for Families Today
National Alliance on Mental Illness of New York City, Inc.
Young New Yorkers

Alliant Retirement Consulting Leadership Excellence Award
Association to Benefit Children – Gretchen Buchenholz, Executive Director
Avenues for Justice, Inc. (AFJ) – Angel Rodriguez, Co-Founder & Executive Director
Exponents – Joseph Turner, JD, President & CEO
The Campaign Against Hunger (TCAH) – Dr. Melony Samuels, CEO & Founder

Cerini & Associates, LLP Social Impact Award
New York Common Pantry
Project Renewal
The Ali Forney Center
Win (Women in Need, Inc.)

OneGroup Innovation Award
Project Renewal
RIP Medical Debt
YAI, Inc.
Youth INC

The Claire Friedlander Family Foundation Arts & Culture Award
Art and Resistance Through Education (ARTE)
Education Through Music
National Museum of Mathematics (MoMath)
Omnium Circus

About The Imagine Awards
The Imagine Awards was created in 2012 on Long Island by Ken Cerini Managing Partner of Cerini & Associates, LLP. Honoring organizations of all types and sizes and the people behind them, the Imagine Awards recognize outstanding performances in the Community. The NYC Imagine Awards recognizes outstanding nonprofit performances in the region. 2022 will represent the 2nd Annual event in NYC. Learn more about the NYC Imagine Awards, visit www.NYCimagineawards.com.